Generate Printable 941 Form Online
---
Generate Printable 941 Form Online with ExpressFreeFile
---
It's now simple to create a printable Form 941. Just ensure that you have all the required Form information. Get Started with ExpressFreeFile Now.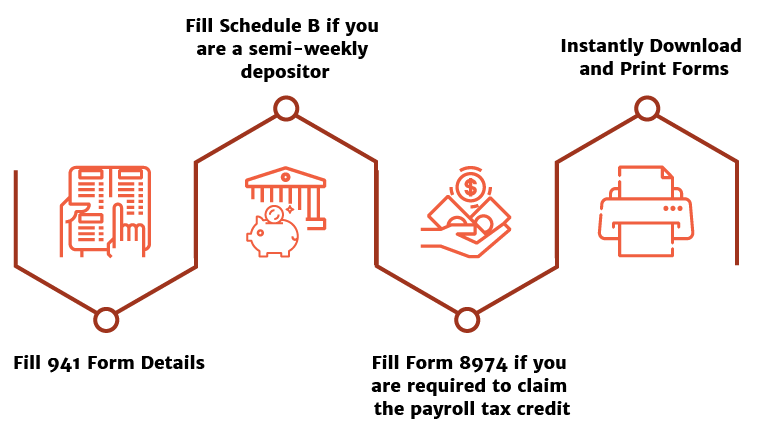 ExpressFreeFile 941 Form Features
---

Easily Generate Printable 941 Form

Download and Print Forms

Edit Forms anywhere & anytime

Effective Dashboard to Organize Forms

e-File directly to the IRS

Automatically Fetch Employer Information
File Form 941 Electronically at a Small Fee
---
Say goodbye to paper filing your IRS Forms when you can e-file your 941 Form with ExpressFreeFile at just $3.99 per form. Upgrade to e-filing and even save more time. Also, ensure both error-free and timely submission and IRS acceptance status.
If you run a small business and needed to claim payroll tax credit through Form 8974, ExpressEfile helps you to file Form 8974 for an additional charge of $0.49 while e-filing your Form 941.
E-file Form 941 Now
Due Date for Filing Form 941
---
Form 941 is generally due by the last day of the month following the end of the quarter
| Quarter | Reporting Period | Due Date |
| --- | --- | --- |
| Quarter 1 | January, February and March | April 30, 2021 |
| Quarter 2 | April, May and June | August 02, 2021 |
| Quarter 3 | July, August and September | November 01, 2021 |
| Quarter 4 | October, November and December | January 31, 2022 |
What is the Penalty for Not Filing 941?
---
Your business will incur a penalty of 5% of the total tax amount due. You will continue to be charged an additional 5% each month the return is not submitted to the IRS up to 5 months.In addition to failing to file 941, if you did not pay your owed tax bill you will initially be charged .5% of the unpaid tax amount, and this fee will increase each month the payment remains unpaid. The penalty will increase to 1% ten days following the IRS notice of intent to levy.
Visit https://www.expressefile.com/form-941-penalty/ to know more about the late filing penalties for 941.